For more information about Children and Teen programming, check out our events calendar!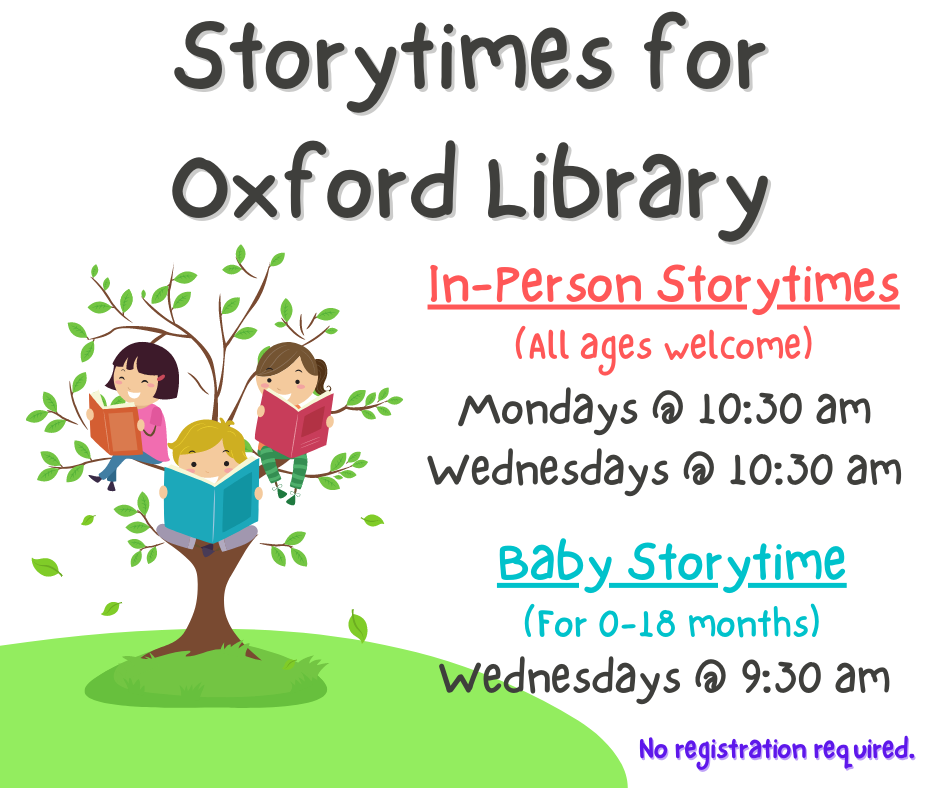 [Image 1 Description – Storytimes for Oxford Library, In-Person Storytimes (all ages welcome) Mondays @ 10:30 am & Wednesdays @ 10:30 am, Baby Storytime (for 0-18 months) Wednesdays @ 9:30 am, No registration required.]
[Image 2 Description – Storytime @ Starbucks, Where: Oxford Starbucks 503 Commons Dr, Oxford, PA 19363, When: Every Tuesday @ 12 pm, Join Oxford Library for free storytimes at Starbucks! Enjoy reading stories, singing songs, and more. Open to all ages. No registration required.]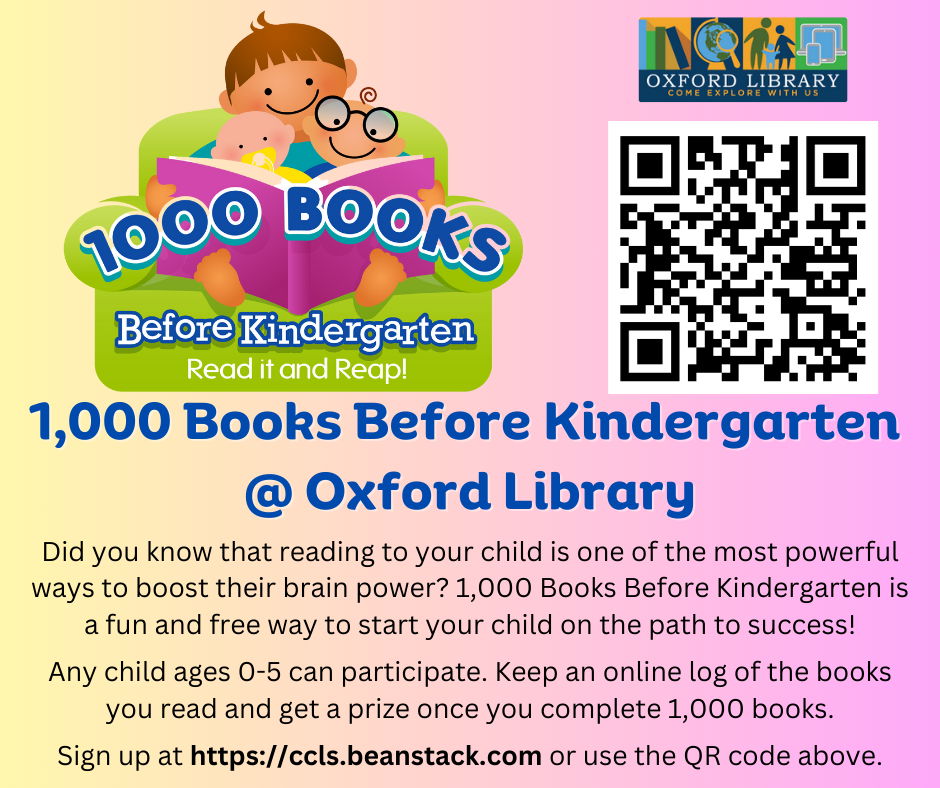 [Image 3 Description – 1,000 Books Before Kindergarten @ Oxford Library, Did you know that reading to your child is one of the most powerful ways to boost their brain power? 1,000 Books Before Kindergarten is a fun and free way to start your child on the path to success! Any child ages 0-5 can participate. Keep an online log of the books you read and get a prize once you complete 1,000 books. Sign up at https://ccls.beanstack.com or use the QR code above.]
[Image 4 Description – Music & Me In-Person!, Fridays @ 10:30 am, Starting on September 22, Ending on December 22. For ages 0-6. Come sing, dance, and play with us at the library! No registration required. Please check the calendar as there are some Fridays where Music & Me will not be held due to other events.]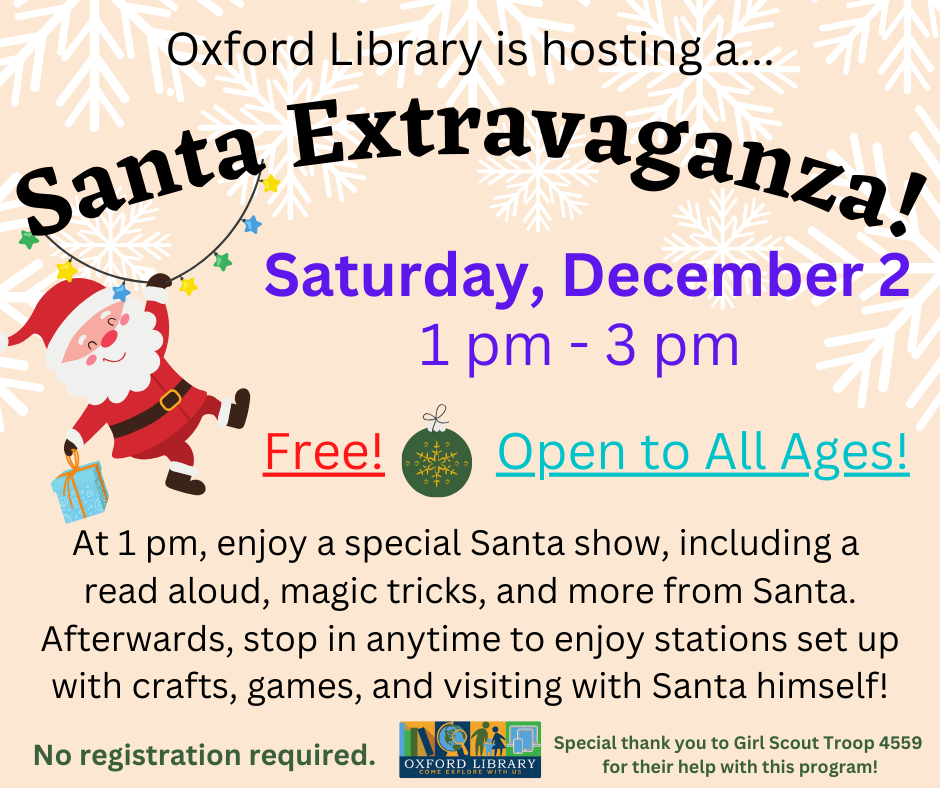 [Image 3 Description – Oxford Library is hosting a… Santa Extravaganza! Saturday, December 2. 1 pm – 3 pm. Free! Open to All Ages! At 1 pm, enjoy a special Santa show, including a read aloud, magic tricks, and more from Santa. Afterwards, stop in anytime to enjoy stations set up with crafts, games, and visiting with Santa himself! No registration required. Special thank you to Girl Scout Troop 4559 for their help with this program!]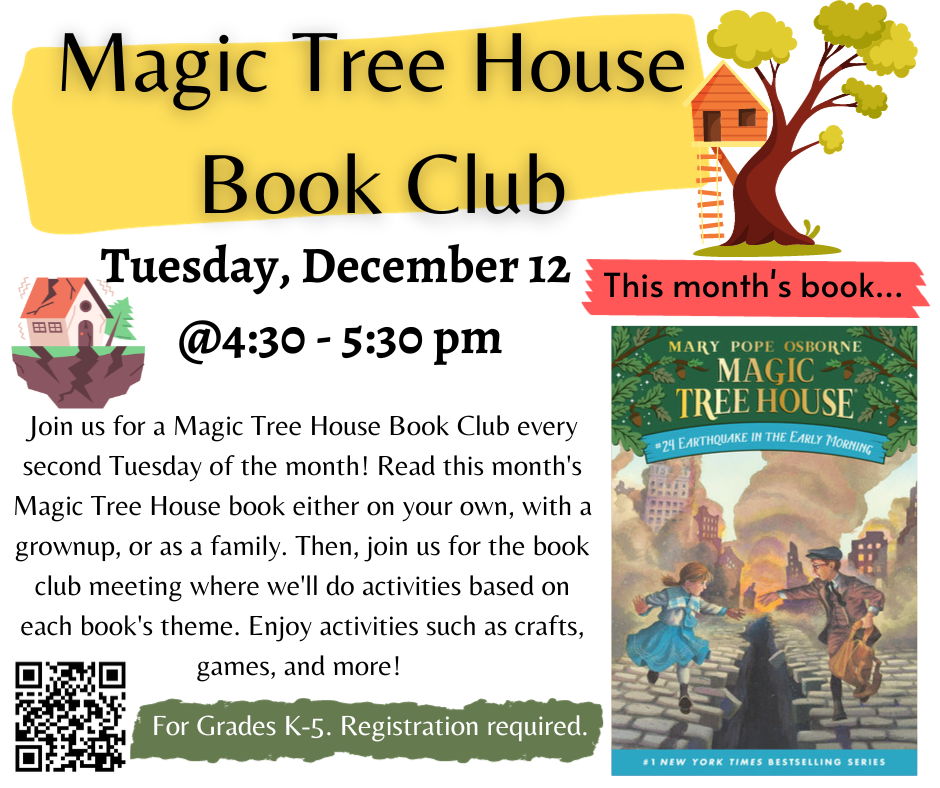 [Image 4 Description – Magic Tree House Book Club. Tuesday, December 12 @ 4:30-5:30 pm. Join us for our Magic Tree House Book Club! Read this month's Magic Tree House book either on your own, with a grownup, or as a family. Then, join us for the book club meeting where we'll do activities based on each book's theme. Enjoy activities such as crafts, games, and more! For Grades K-5. Registration required. This month's book: "Earthquake in the Early Morning" by Mary Pope Osborne]
[Image 5 Description – Art Market. Saturday, December 16. 11 am to 1 pm. Stop in any time between 11 am and 1 pm to make art using supplies from the library! Pick materials based on how many "library bucks" you get at the start. Then, make a creation you can take home. Great for practicing money, math, and art skills! Geared towards kids in K-6th grade. No registration required.]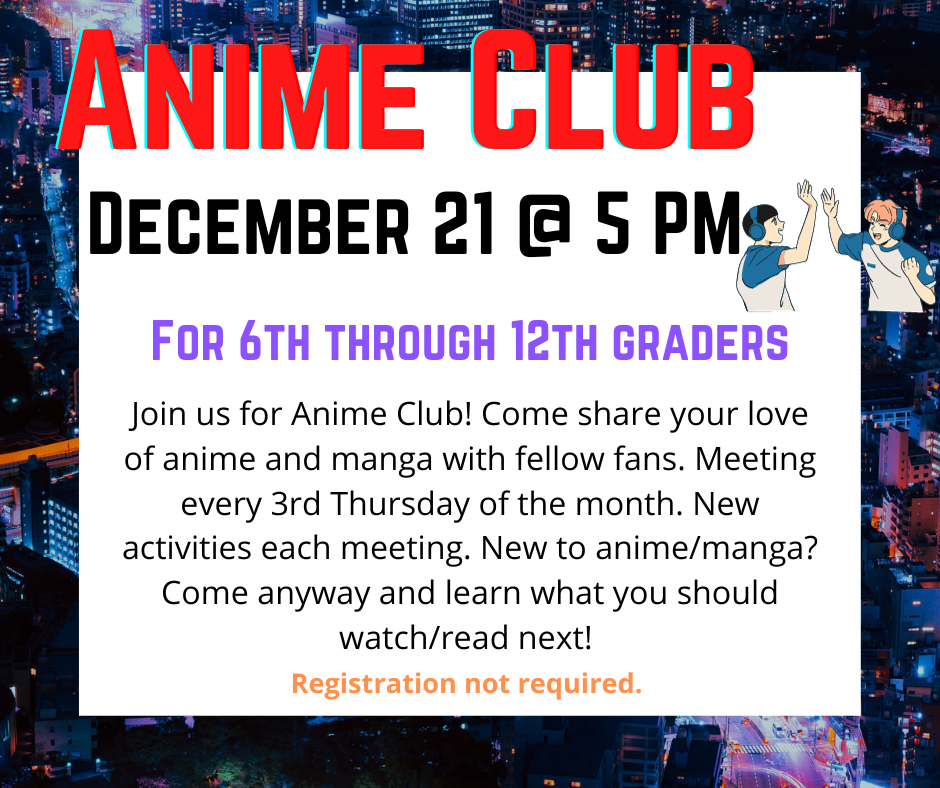 [Image 6 Description – Anime Club. December 21 @ 5 pm. For 6th through 12th graders. Join us for Anime Club! Come share your love of anime and manga with fellow fans. Meeting every 3rd Thursday of the month. New activities each meeting. New to anime/manga? Come anyway and learn what you should watch/read next!]
[Image 7 Description – Build a Gingerbread House! Friday, December 29. Kids Session (Grades 1-5) @ 11am – 12 pm. Teen Session (Grades 6-12) @ 1 -2 pm. See what kind of gingerbread house you can build at the library! All materials provided. Registration required.]
Teen Volunteers @ Oxford Library
Oxford Library welcomes teen volunteers from grades 6 through 12. Volunteer opportunities may include shelving books, assisting in programs, and more! We accept teen volunteers all year long.
To become a teen volunteer, print the teen volunteer application below and either email it to Miss Sarah at [email protected] or return a physical copy of the form to the Children's Room Desk at Oxford Library.
Have Questions? Email Sarah Beyer Doty at [email protected] or call the library at 610-932-9625.