Watch Miss Erin's Video to learn about the 2017 Build a Better World Summer Reading Club at the Oxford Library.
Welcome to the official webpage of the Oxford Library Company Children's Room!
For current information on story times and events, please visit the Oxford Library Events Calendar!
You may also find us on FaceBook! Visit the Oxford Library Children's page on FaceBook
We are proud to offer the 1,000 Books Before Kindergarten Challenge to all children from birth to age five.

To learn more, contact the library, or visit http://1000booksbeforekindergarten.org/
Visit the library to sign up for free and to receive motivation for this rewarding challenge.
Click Here to Learn About the Free 1,000 Books Before Kindergarten App for iPhone from iTunes
Wee Build: hands-on learning for young children!
Oxford Library recently received materials from Pennsylvania's Office of Commonwealth Libraries to provide building materials for young children and their adults through the Cruise into Kindergarten program grant. These building sets offer children an almost infinite variety of opportunities to express themselves, from constructing simple designs to veritable engineering feats of building.
Playing is no idle pastime. In fact, research shows that play is shown to help children develop these skills: social-emotional (cooperation, self-confidence, initiative); physical development (eye-hand coordination, hand manipulation); mathematics (shape, classification, order, size, space); science (gravity, weight, balance, trial and error); language arts (exchange of ideas and telling stories about what they are building); and art (patterns, symmetry).
There is always a building set sitting out in our story time area, so bring your imagination to the Oxford Library Children's Room and start building today!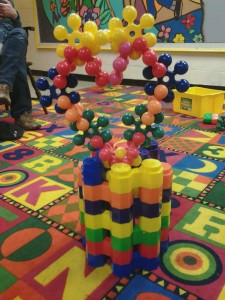 Join the 4-H Clubs at the Oxford Library!  
Sign-up for All the Fun 4-H Activities
$20.00 Yearly Membership Fee Covers All Clubs at the Oxford Library
(Scholarships are available for any family in need of assistance.)
4-H…TO MAKE THE BEST BETTER, LEARN NEW SKILLS, HAVE FUN, MAKE NEW FRIENDS
Junior Master Gardener: This 4-H club meets the second Thursday of each month from 5:30 – 7pm at the library. The club focuses on horticulture and environmental education. During the summer, the club cares for vegetable gardens and donates the food to local food cupboards.
Textile Tornados: This 4-H club meets the second Monday of every month from 6:00 – 7:00pm at the library. The club focuses on teaching sewing, embroidery, and other textile handiwork to students. The club uses learned skills to complete projects to enter into the Chester County 4-H Fair.
Food, Fun, and Fitness Healthy Cooking Club: This appetizing 4-H club meets the third Monday of every month from 6:00 – 7:00pm at the library. This club focuses on choosing healthy foods, reading labels, safe food practices, and learning cooking skills. This club teaches: cooking techniques, methods, instruction on science of cooking, and cooks something tasty at every meeting, too.
To learn more about 4-H opportunities, contact:
Penn State Cooperative / Chester County
601 Westtown Road, Suite 370, West Chester, PA 19380
610-696-3500
flj@psu.edu
Click the Clover Leaf Below to Access the Chester County 4-H Website
Scroll down for useful links…
Homework Help
HOW STUFF WORKS: Go to this site to learn how just about everything works. Great for school reports!
KIDSCLICK: Web search for kids by librarians.
Fun Websites for Kids
KidsReads: Find out about your favorite book, series or author. Check this site when you need a new book to read!

CRAYOLA: Features fun art activities to keep busy after school and this summer. Search by theme or art material to find creative project ideas.
ASK FOR KIDS: Formerly known as Ask Jeeves for Kids, this site allows kids to ask questions in the way they would ask a teacher, parent or friend.

BENS GUIDE TO US GOVERNMENT FOR KIDS: This useful website from the US Government provides learning tools for K-12 students with age appropriate information and explanations on how our government works.

Kids.usa.gov: is the U.S. government's official web portal to all federal, state, and local government web resources and educational resources for kids, parents and teachers.
Arts and Crafts for Kids:This site focuses on fun and educational arts and crafts projects for children of all ages.
Homeschooling Sites
HOMESCHOOL WORLD: The official website of Practical Homeschooling Magazine
HOMESCHOOLING TODAY: The online site of this popular magazine